pseudomonas
Everyone else, as
Andy Hinton
says, is doing a Where Do We Go From Here post, and there's something that I need to get off my chest, so here's mine.

miss_s_b
points out
that (among many other things that the leadership got hideously wrong during coalition) the policy of
applying to be the Rizla you can't slip between the Labservative parties
is a horrible one. I think this is for three reasons:
■ Pragmatically, the
Hotelling
Model
predicts that there's absolutely no votes in being stuck between two parties playing that game.
■ Politically, it's stupid to define yourself in terms of other people's policies. What's the point in looking like some kind of me-too triangulator?
■ But most of all, ideologically, that's not where we belong. I've seen a few people say
"we're not left-wing, we're not right-wing, we're not centrist, we're Liberals"
, appealing to the two-axis model, and suggesting that the liberal-authoritarian axis is the only one where we need to take a position. While I acknowledge that the left-right axis isn't a perfect model and
certainly
isn't the only axis that matters, I think this is a mistake.
Among our statement of principles is: "
The Liberal Democrats exist to build and safeguard a fair, free and open society, in which we seek to balance the fundamental values of liberty, equality and community, and in which no one shall be enslaved by poverty, ignorance or conformity
".
How left-wing should we be?
As left-wing as we need to be to make no-one enslaved by poverty
.
I don't think the answer is a socialist "as left-wing as we can possibly be", but a pragmatic "enough to achieve this goal", (which surely is
much more redistributive
than we are now
1
). I think that we should see taxation and state intervention as
very necessary
evils to address the bigger evils of poverty and inequality. All things being equal we should not have the state intervening; but all things are not equal.
If the Labour Party is to the left of us, fine. And if the Labour Party is to the right of us, fine. Neither of those should let us be deterred from taking a pragmatic attitude, that enslavement-by-poverty is something that we can and should eradicate
2
, and the right policies are those that will get us there.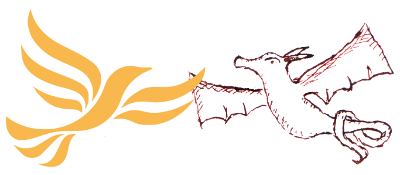 1
If you think that currently there's not significant levels of poverty, or that the solution is to starve the poor harder until they're more motivated to work harder, please just go away. If you have a convincing argument that there are other measures that government can take that will have a similar effect on relieving poverty, then yes, that's something to consider subject to evidence.
2
I know there's going to be argument as to which definition of poverty to consider; I'm prepared to have that argument at some later point; it surely needs to be had. Also I know that there's more to left-right than just redistribution-to-relieve-poverty — but I trust you will forgive me for not tackling all of politics while standing on one leg.
PS: If you're not currently a member, but feel that you would like to play a part in helping ensure that the party takes a position that you approve of,
joining before the end of May
will enable you to vote on the next leader, as well as help make party policy through its internal democracy:
http://www.libdems.org.uk/join